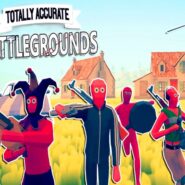 Totally Accurate Battlegrounds is a multiplayer first-person shooter in the genre of battle royale that is a parody to all games of this kind. A huge map where the action takes place, character customization system, and well-developed physics in every aspect of the gameplay are waiting for you here. The environment very similar to everything you've already seen in other royal battles: the same locations, similar models of soldiers and objects. However, the visual style is simpler and the whole process is nothing but a bit joke!
It all starts quite commonly. You land on the island in the company of other participants (the total number is 100 people) and need to survive in a massive struggle where everyone but one single person will end up dead. To do this, you will have to find weapons hidden in the location and kill your opponents – or wait for them to kill each other. Does it seem trite and boring? Then take a closer look at the characters! You face will crack into a broad smile already after taking a quick glance at their appearance. Sketchy bodies, tracksuit instead of military uniform – it's like watching a cartoon. But the most hilarious thing is the weapon. Along with sniper rifles (the recoil from which throws the player back a few meters), giant frying pans are also available. Talk about desperate housewives!
It's hard to imagine anything more humorous than Totally Accurate Battlegrounds. For this alone, the game deserves close attention. After the first time you manage to catch a bullet threatening to finish you off on the spot with that very frying pan or use it successfully to do away with a tough guy lying in ambush with a cool machine gun, you will want to experience jolly moments like this over and over again. The absurdity and non-seriousness of everything that's going on lifts up much of the nervous tension characteristic of the battle royale genre and leaves you with pure excitement. And you can get your share of positive impressions any time you like in any quantities because there are also plenty of people ready to join another match. Discover the joys of Totally Accurate Battleground and see if you can become the winner!