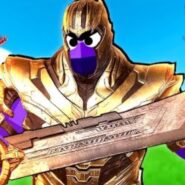 Totally Accurate Battle Simulator offers a lot of exciting features. One of the things that make the game so fascinating is the immense assortment of units you can choose to form your troops. But we always strive for more and now there is a new amazing ability that will definitely thrill all TABS fans – unit creator. This option allows you to customize and configure your own soldiers choosing every aspect of their appearance, characteristics and even behavior on the battle field! Now you have even more sway over the composition of your army and, subsequently, the outcome of the fight. So what exactly can you do with self-made soldiers?
First of all, you'll have a full freedom of making your units look whatever you like. Everything is adjustable, starting with the gender of the warriors and ending with details of their appearance. The color of eyes, the type of face, hairstyle, height and weight – a great number of sliders will allow you to create exactly the same image you have in your head. You can also pick clothes for your character. And of course, armor and weapons. That's where the process of unit creation gets really interesting because aside from appearance you can also customize the parameters and battle style of the hero. Even the way they walk – and talk – will depend on your choice!
Once the unit is ready, it's time to send them into battle and see how they fare on the field. You don't have to worry in case your soldier dies – after the end of the match, you will be able to revive them and use for another fight. This way, all of the units you ever created will be available to you at any time. Make your contribution to expanding the gameplay of Totally Accurate Battle Simulator, fill the battlegrounds with warriors of your own creation and test their abilities in thrilling collisions knowing that there is part of your own work here!