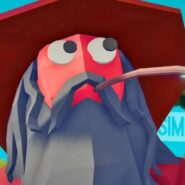 As you know, TABS emulates environments and soldiers from various historical epochs and allows you to bring them together in battles that are far from reality, despite the name of the game. However, not all of the units are available at once. Some of them must be discovered and that will give you a chance to unlock a secret campaign that is absent in the standard mode. Quite a motivation to keep playing and winning, isn't it? Let's find out more about the notorious Legacy map and also a faction with the same name that includes a total of 16 new amazing units you can really diversify your gaming experience with!
To be capable of enjoying this campaign, you have to unlock all of the warriors representing the faction. The basic unit available by default is Peasant. You can witness it in action on a picturesque map with a church and graveyard. As the setting suggests, the soldiers we are about to discover belong to the Medieval epoch and have something to do with farming and country life. You won't be very surprised to unlock Banner Bearer who controls the maneuvers of the troops or Barrel Roller riding an explosive barrels that sets a patch of the ground on fire together with all the enemies on it. Pike and Poacher also seem logical. Even Wizard casting spells and throwing energy balls at the opposing troops won't cause a lot of dissonance.
However, there will also be some units that seem a bit out of place if not downright unexpected! For instance, Blowdarter that would be to the point in an Indian settlement on the Frontier rather than among the ruins of a European cathedral. Or Boxer wearing modern-looking gloves and barely fitting the whole epic environment. And you surely couldn't even hope to recruit Thor himself to the ranks of your army! Well, TABS knows how to add excitement and absurdity to the gameplay, and Legacy faction with its motley lineup is obviously one of the ways to do that.
Every unit has its own unique position on the map, so in order to discover each and every last of them, you have to carefully explore the whole location looking everywhere. Some will be seen immediately, in the center of the camp or inside the church. Others hide among the trees, in craters and even in graves. Wizards, for example, is waiting for you on a stump near the road that runs along the building. Plunge into the thrilling process of unlocking and testing Legacy units to make your TABS experience even more diverse and enjoyable!