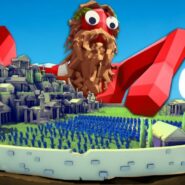 No matter how great and exciting your favorite game is, there is always something you would like to add to it. Before the appearance of mods, we had to put up with the limited functionality offered to us by the developers. Now it's possible to expand the boundaries of our gaming experience by completing the gameplay with any kinds of features and content we can dream of! If you are looking to discover new sides of Totally Accurate Battle Simulator and get even more amazing impressions from this awesome game, it's time to check out our incredible mods that will guarantee you something you've never tried before!
The first thing players often complain about is the lack of money. In TABS, you need to earn a certain amount of coins to gather a really mighty army. Without sufficient funds, you won't be able to recruit the number of units you would like to set up against your enemy and will have to do with cheaper, less efficient soldiers instead of hiring a bunch of premium Wizards or inviting some ancient god to join your ranks. TABS mods solve this problem! Now you don't have to worry about your financial state and any types of troops in any quantity are available to you right from the start.
Even with all the Secret and Legacy units you can unlock playing Totally Accurate Battle Simulator, you would still like a few other characters to be added to this lineup. The mods expand your choice significantly! Your army can be enhanced by famous movie and cartoon characters – for instance, one of the Avengers – or you can even give birth to your very own, unique and fully customizable soldier yourself in Unit Creator! Let's agree, this adds much more versatility and broader tactical possibilities. And besides, creating your own units is so much fun!
With Totally Accurate Battle Simulator mods, you will forget about all restrictions and disappointments you might have experienced in your virtual military career. A wider array of units, ability to change skins and unlimited money will make the gameplay so much easier and groovier. Discover other perks our amazing mods are ready to offer you, take advantage of the expanded features and play TABS on a new, brighter and cooler level!